Being madly in love with books is one of the most rewarding and painful relationships anyone can have. While it can be all flowers and sunshine, there are some problems with the force, there is.
1) Not Being Able to Afford the Next Book in a Series That You Now Adore
This has happened at least once to all of us I'm sure. It starts with us thinking, "I probably won't like this book all that much it's not my typical go-to read, so I'll only buy the first book."
At the time we think it's a logical decision….
But then as is typical of the universe to hurt you in unnecessary ways when we read that first one and love it…. we have usually spent all the money on; other books, food, or adult things eww .
2) Loving a Book that No One Else Seems to Have Read, So You Feel AAAAALLLLLL ALOOOOOOOONE! 
Yeah, I don't think I need to explain this one. After you read a book that has either; been out for a long time and hardly no ones read it, or it's a new release and a very limited amount of people have read it. Usually the people who have read it are so very far from you, so you can't scream at them…
Where is the fun???
3) When the Covers Don't Match
This probably shouldn't bother us so much? Because regardless of what the book looks like we get the treasure inside it either way.
But yet….. we are the rulers of the salty spitoon about it.
It's not just the cover changes. The different sizes of books in the same series, is something that definitely irks me a little. I can't fit them on my shelves normally, they have to be at the end of the shelf to fit and look slightly beautiful.
Not that I don't love a bigger book in a series I love. Because I do. But if it was regular size there would be more pages! Oh. I see. Cost cutting. Sneaky.
4) Not Having Enough Room for All the Books
Which is why we all need our own castles. We could fill the halls with books. No one could stop us. If they even tried, we could just lock them in the dungeons. Problem solved.
Personally, my room is pretty small so I don't have a lot more room to add any more bookshelves, I'm heavily considering selling my bed.
I don't want to leave my books anywhere else in the house because I can't leave the precious? They need to be in their homes. On the bookshelves that I built especially for them…
Besides….they'll fit somewhere.
5) Finishing a Book (unexpectedly loving it) and you really need the next book but your local bookstore doesn't have it and now you have to wait DAYS before it gets to you from Amazon.
*anxious laughter*
Usually, we'd finish that book at like 4am and then think…"I just have to wait a little longer then the bookstore will be open….yeah…"
….Then it's not there…..
So you go home upset and disappointed but you go super fast because the quicker we order the quicker it will get to us…right?
Then we just sit around on our thrones of salt crying and clutching that first book to your chest like it's a precious baby.
That wears off after the second day, when the second book hasn't arrived….. All we then do is: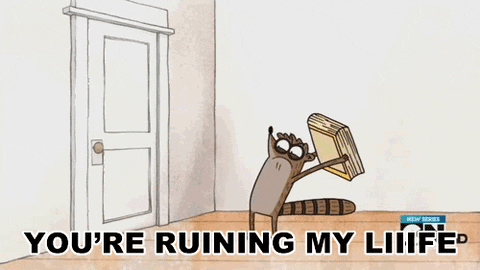 Rightly so… the pain feels real and so we must deal with it in a very real way. By fighting the book we do have….or creating a shrine for it.
Either way….we miraculously somehow always survive this wait for the next book….and then everything is perfectly fine.
Until you finish that book…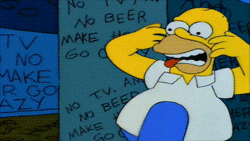 How have you guys been?
What reader problems do you have? This list barely even brushes the surface, I concur. Do you also go a bit loopy waiting for Amazon? I sure do? Especially if I have to wait over a week…it's like a week long reading slump…. I don't like it…. SAVE YOURSELF AND BUY THE NEXT BOOK IN ADVANCE (if possible) WHEN YOU ARE MID WAY THROUGH THE FIRST AND DECIDE YOU REALLY LIKE IT!
I have learned from past mistakes…. I hope.