GREETINGS ONCE AGAIN MY FRIENDS!!!
I went on a spontaneous blogging hiatus, in which I just disappeared. I basically shut myself in my room so that I could re-read and continue on with the Throne of Glass series….
And while I have been having a great time, I've really missed blogging. Where else can I scream about books like a banshee and not alarm anyone??
October was a more productive month for me when it comes to reading I think. Especially in comparison to my reading progress from the last two months.
All covers link to Goodreads so you guys can check out these books too! Note: All the Throne of Glass books I've listed take you to the first book in the series to avoid spoilers. 😀
Books I've Read!
Strange the Dreamer by Laini Taylor – I loved this book so friggin' much!!!! It was written so beautifully and I am so in love with the world. AND THAT ENDING MADE ME SOB IN THE EARLY HOURS OF THE MORNING!!!! I WASN'T READY!! I gave the book 5/5 stars! (Review to Come).
Heir of Fire by Sarah J Maas – I decided to start my re-read from HoF because I can kinda remember everything that happened, I just needed to re-immerse myself in the world. Plus, HoF is one of my favourite in the series (so far). I rated it 5/5 stars!
Queen of Shadows by Sarah J Maas – Queen of Shadows is another one of my favourites. Maybe it's because everything is kind of okay at the end, there's hope for our characters and this world… however brief it is. I rated this book a 5/5 stars!
Empire of Storms by Sarah J Maas – *deep inhale* SCREEEEEEEEEEEEEE! I'M STILL HURT! The ending of this one always makes me cry, no matter how many times I read it. There's always tears. Gods, I really want there to be a happy ending, but I saw some spoilers on Instagram and now I am so friggin' scared. I rated this book 5/5 stars!
Currently Reading!
Tower of Dawn by Sarah J Maas – There isn't much I can say about the actual book at this point but I can say that out of all the ToG covers I think Tower of Dawn might be my favourite. It's so beautiful!
Books I've Hoarded Into My Collection!
Writing!
I am so late to the NaNoWriMo party…. I was going to plan at the end of October and then write as soon as November began. But I didn't have time to plan at the end of October. So I'm planning now, and when I start I'm gonna have a pretty high word count goal per day. But I'm gonna get there.
This will be my first time participating in NaNoWriMo and I'm feeling pretty determined. For those of you who don't know NaNoWriMo is National Novel Writing Month, in which writers dedicate the whole month of November to writing the first draft of their book, typically 50,000 words.
I'm scared. I'm already tired. But I've got coffee. And I'm not afraid to drink it.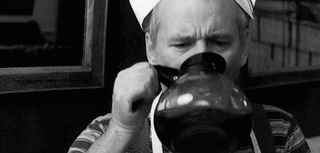 ---
How was your October?? Have you read Throne of Glass?? Have you read Kingdom of Ash yet?? Are you sobbing?? What was your favourite book you read last month? What are you reading right now?? Are you participating in NaNoWriMo?? What's your project about??