It has been awhile my friends. She says as if she's been gone for centuries but actually it's only been 2 months and a handful of days… so basically a century…
I don't know if you've noticed yet but… DO YOU LIKE MY NEW LOOK???
*cups ears to listen to the "ooh's" and "ahh's"*
Oh stop it you!
18 year old me chose The Reader of a Thousand Stars, and I liked it. I did. Buuuutttssss. Now 21 year old me says "WHERE ARE THE VIIIIIBES??? WHERE ARE MY WHOLESOME VIBES THAT I CLING ONTO IN TIMES OF DESPAIR????" "I DON'T EVEN READ THAT MUCH SCI-FI??? IF AT ALL?? SO WHAT'S WITH THE STARS???" "WHO AM I??" *stares off into the distance* "More importantly… who will I become?"
Any way… My blog is now called Whimsical Woodland Wanderer! I love it very much. Not that The Reader of a Thousand Stars was terrible, I just feel like this is a change that: 1) I didn't know I needed. 2) Was a long time coming and I just didn't see it coming until it whacked me upside the head.
Kinda feels like my blog is growing with me, and now I can drag it through my obsession with The Lord of the Rings and The Hobbit movies (and the overall vibe of those movies) without feeling like "isn't there supposed to be stars on this blog??? Somewhere??" NO! ONLY HOBBIT, ELVES AND COPIOUS AMOUNTS OF JOY! AND EVEN MORE BOOKS!!!!!!
And yes to those wondering, my use of Woodland in my new name is literal, because I love trees… especially large flocks of trees, and is in reference to our Woodland kin.
I wanted to talk about this re-branding and also about what I was doing while I was away for a short while.
First I think I'll talk about what I've been up to! A fun little life update!
Contrary to what you might think, I wasn't laying around crying at my indecisiveness and lack of creativity when it comes to naming things. Oh no. I was busy! Doing other fun things!
I have a list of new blog post ideas, that I added to every now and then while I was in the middle of doing these other fun things. Inspiration really does strike at opportune moments. Although having to fly upstairs at top speeds to write down the idea before it so graciously decided to flee my brain was exhausting. But on the plus side my legs muscles are nothing to scoff at. You wouldn't want to go against me in a leg wrestling match (is this a thing?? There's arm wrestling, but where is the leg wrestling??)!
So I have a list of ideas. But I haven't written any blog posts in a while. And I am so happy to be back at it! AND WITH A NEW LOOK AT THAT!! I don't know 'bout you guys, but new things make me excited. Very excited!
But anyway. Not what I wanted to talk about. Look at me going off on tangents about my blog before I get to the part where I'm going to squee about my new look. Typical.
Baking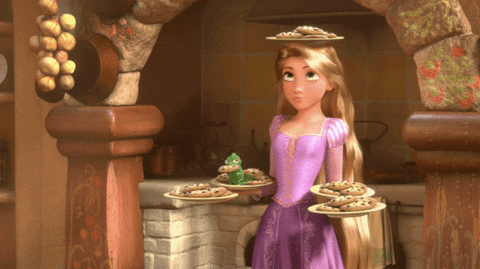 I'll confess. Rapunzel has got one up on me. I have not yet perfected the cookie.
BUT I'LL TELL YOU WHAT I HAVE PERFECTED!
MY PIZZA DOUGH?? PERFECTED PERFECTION!
MY BREAD ROLLS?? FLAWLESS!
MY CUPCAKES?? AWARD – WINNING!
MY BUTTER FROSTING?? WORLD CHANGING!
Honestly, I could eat that butter frosting by the bowl… I'd be sick afterwards for sure. But I would do it.
I'm more proud of my bread rolls. I haven't got any pictures of them… but I will change that! Maybe I'll try taking some of those gorgeous Bookstagram photos that we see on the feed, you know the ones. The ones that make you really hungry.
The Witcher 3: The Wild Hunt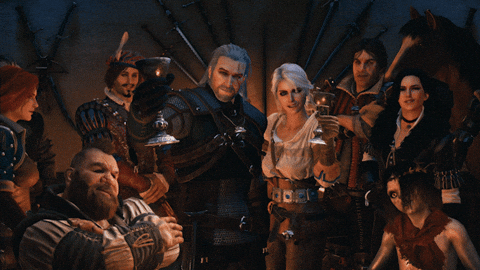 I'm still crying about this game tbh. But it's a good kind of crying.
I loved this game so gosh dang much. I want to play it all over again! (I actually plan too soon XD)
I played every crevice of this game (although I missed a few treasure hunts… SADNESS OVERWHELMS ME).
THE MAIN QUEST?? VICTORIOUSLY COMPLETED! HAPPY ENDINGS FOR ALL!
THE SIDE QUESTS?? GLORIOUSLY COMPLETED! GERALT IS RICH NOW!!
THE WITCHER CONTRACTS?? VILLAGES LIBERATED FROM MONSTERS!! GERALT IS ROLLING IN COINS LIKE SMAUG!!
THE TREASURE HUNTS?? ALL TREASURE NOW BELONGS TO GERALT!! HE HAS LITERALLY BECOME SMAUG!! OH GOSH, WHAT HAVE I CREATED?!?!
Criminally though, I have yet to watch the Netflix show… and read the books.
I want to! But the when of those plans is undecided and honestly who knows?? Might happen tomorrow, might happen in 60 years. Only time shall tell!
But what I can say is: this game is seriously the most beautiful thing ever. Not the monster slaying (although that is part of the fun) but the world, the characters and the story are all so captivating and soul consuming and I just can't stop thinking about it AAAAAAAAAAAAAAAAAA! I love it. I can see myself replaying this game a million times before I die at the ripe, old age of 459.
Lord of the Rings & The Hobbit Marathon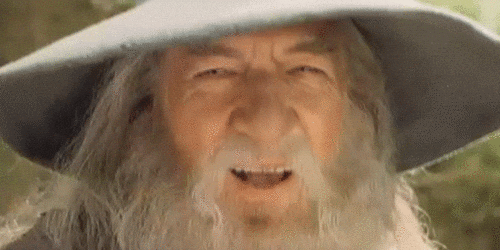 I love these movies! Not only the adventure we're dragged into, and the characters we follow along the way, but the depth and detail of the small glimpse we get into this magical world that Tolkien created fills me with such joy.

There's something so wonderful about a world where hobbits live in and under hills, elves live among, and in some cases IN, the trees, dwarves carving their kingdoms inside mountains, and the race of men… Doing whatever it is they do.
I watched all of The Lord of the Rings (extended editions of course – nothing has caused me more pain and heartbreak than hearing The Lord of the Rings playing somewhere in the house, barging into that room ready to act out the next scene with such passion and supreme acting skills only to discover – with no small amount of horror–that the next scene isn't there… Because they aren't watching the extended edition… BLASPHEMY! IN MY OWN HOME!) and I then watched all 3 Hobbit movies all while doing some hand sewing and a spot of knitting (I can only knit scarves and squares but what more do I need tbh). It was relaaaaxing.
I have begun my re-watch (or I suppose we can call it what it is… a binge watch) of BBC's Merlin and I am having the time of my life! It's absolutely brilliant and if you haven't watched it yet, I highly recommend it! And if you have watched it before, then consider this a sign… a sign that it is TIME TO WATCH IT AGAIN!!!!!!!!!!!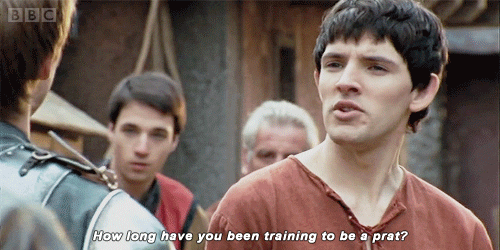 The Rebrand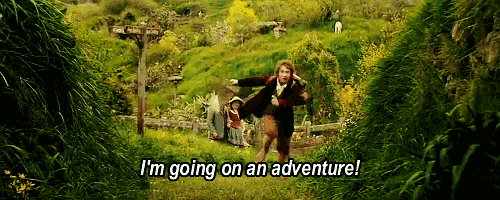 I mean… I don't know if you've noticed the correlation between my binge watching LOTR/Hobbit and my rebrand…
Or if you've noticed my obsessive use of LOTR GIFs in the past…
If you have then…
THEN YOU MY FRIEND PUT SHERLOCK HOLMES HIMSELF TO SHAME!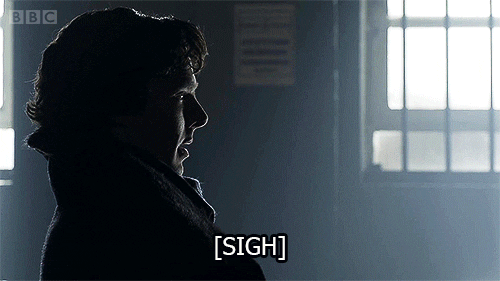 Essentially watching LOTR/Hobbit and roaming around the Witcher 3 world has made my love for the magic of forests and places away from civilization greater (and also, at the tippity top of my bucket list is to stand in a place that resembles elven ruins – the ones in The Witcher 3 were so beautiful they made my heart ache and long for somewhere that doesn't exist [as far as I know]) and so the Whimsical Woodland Wanderer was born.
I felt like I needed to spice up my blog somehow but it didn't occur to me that I should completely rebrand my *:・゚✧look✧・゚:* until I was running around looking for treasure in The Witcher 3. Don't mean to be cheesy buuut, I found the greatest treasure. IN MY HEART!
I'd like to point out that just because my blog has become all fancy and woodland-y, doesn't mean anything more than that. I'm happy with the way it looks now compared to how it was before. My content will remain the same.
Although perhaps not exactly the same, in that – I hope it continues to improve overtime as I continue to learn new, and improve existing, blogging skills. But I will always be the same little bookworm who screeches – perhaps a little too loudly – about the books that I love and enjoy, and I will continue to screech. For eternity.
And there's nothing you can do to stop me.
So, don't panic folks! 'Tis the same flailing bookworm, just with a different look. Bit like turning up to a party with a radical new haircut.
What have you guys been up to these past few months?? Discovered any new hobbies?? Read any good books lately??
I've missed reading your posts, and flailing about books together. Expect to see me screaming on your posts soon!
You can also find me here!