When it comes to our favourite characters, the only time I can really see us stalking them is if they were in mortal danger and we go all "NAAAAAAAAAW FUDGE! I can't just leave them there!" And then we rush to their rescue like an angry mob.
There are a lot of characters that I feel like would get up to all kinds of mischief if they had the same technology as our confusing modern world.
And if I could just follow them on social media… Like, follow them on Instagram and watch their stories of them saving existence as we know it but at the same time taunting their enemies who are definitely watching – it would be so much easier to keep track of all these troublesome chosen ones getting in the way of all your evil schemes.
BUT IMAGINE IT THOUGH!
Everyone popping into the DMs of these characters like "NOOOOOOO! DON'T SACRIFICE YOURSELF!!! I CAN FIX THIS!! WAIT!! THERE'S A LOOP HOLE SOMEWHERE AROUND HERE JUST GIMME A SECOND!!"
There would be a few, "TAKE ME WITH YOU!! I CAN BAKE YOU CAKE WHENEVER YOU'RE HUNGRY!!"
Just imagine how many people would join the crew in the final epic battle. The enemy would be all "Brought all 5M of your Instagram followers to fight me, did you?" and the bois would be like;
"Only seems fair. Looks like you brought yours." *gestures to 3 enemy soldiers*
The rest of the exchange would be like:
Enemy dude/ette:
The Crew: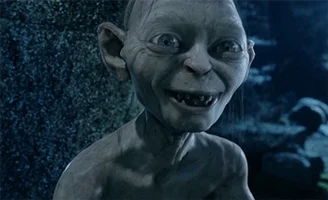 I also feel like a lot of characters could use the emotional and mental boost of unconditional support and continuous encouragement. "YOU ARE AMAZING! LOOK AT YOU BEING ALL SHINY LIKE A LITERAL STAR! You are doing great, you precious little bean you!"
*angry glares from ancient, brooding warriors*
*that one dude who's been working on his muscles for years, eye twitching* "LiTtLe?!?"
---
Today's Top Ten Tuesday prompt isssssss "Characters I'd follow on social media!" AND I'm sticking to the theme!! WOOOOOW! To be fair though I've been pretty good at sticking to the theme??
ON WITH THE LIST!
All covers will link to Goodreads so you guys can check out these books too and maybe fall in love with the characters and recklessly charge into danger to protect them?
---
Thranduil (The Hobbit by J.R.R Tolkien)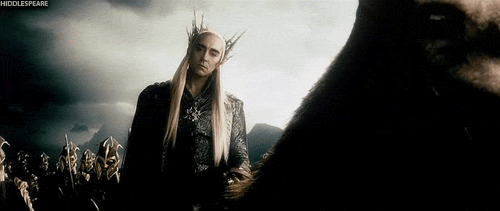 Everyone knows Thranduil is fabulous. Imagine what he would post though? "I'm the King of the Woodland Realm and you would dare try to sell me a holiday package to the SEASIDE?!?!?! I'M SUING!"
Well… he wouldn't sue. He'd probably throw whoever's responsible in the dungeons with a dramatic, "100 years is the blink of an eye to an Elf! I can wait."
Princess Winter (Winter – The Lunar Chronicles by Marissa Meyer)
I feel like Winters' social medias would all so aesthetically pleasing. Like, I can see "How to make the perfect flower crown tutorial!" She was just such a sweet and gentle character and I love her so much!
Captain Carswell Thorne (Scarlet – The Lunar Chronicles by Marissa Meyer)
THE SNARK! THE SASS! THE "LOOK AT MYYYYYYYYYY *glares at screen hoping the American Republic Military is watching* SHIIIIIIIIIIP!!!!!!"
Also I feel like he would start sass fights with the other members of the Rampion crew, on like Twitter or something, just for lolz.
Dorian Havilliard (Throne of Glass by Sarah J Maas)
Let's be real. Following Dorian on social media would be like following a book blogger. We'd get book reviews, royal library bookstagram and puppy videos.
Late books Dorian gets a little Spicy. But he'd still do book reviews for sure.
Yrene Towers (Tower of Dawn – Throne of Glass by Sarah J Maas)
Yrene Towers is such a power house. If you post something like "I'm so tired I don't want to do anyythinnng but I want tooooo." You'd hear rumbling in the distance and suddenly Yrene is HERE! And she is giving you herbal recommendations for boosting energy levels, and she's telling you to chase down your dreams and GET THEM!
But I think she'd also be pretty calm? Like, she'd give some nice tips and just be so comforting that your heart feels all warm. "If you're feeling sick, have some ginger tea and go have a nap sweetie."
Cardan & Jude (The Folk of the Air Series by Holly Black)
Cardan: Would literally be an Instagram fanatic with pictures of himself and his favourite wine. Sometimes picture of Jude with captions like "Who is she?? OH YEAH. MY ENEMY! ❤ ❤ " *Jude throws a dagger at him on Instagram Live*
Jude: Motivational quotes that always end with "Stab them." Someone telling you you can't be whatever you want to be? "Stab them." Someone in the way of you and the most delicious creation in the world? *Cardan slides into view, pointing at himself* "Stab them. *followed with stabbing motions as she chases Cardan*" CLAIM WHAT IS YOURS! NOTHING CAN STOP YOU IF YOU JUST STAB. PROPERLY.
But I feel like they'd both just pot really weird things about each other for the sake of embarrassing each other?? "Did you know Prince Cardan gets drunk by himself and cries about how small worms are?? WHY IS HE CALLING THE WORM JUDE?!?!?!"
A.I.D.A.N (The Illuminae Files by Amie Kaufman and Jay Kristoff)
IT WOULD BE FUNNY! AND WHOLESOME! AND CUTE! I can see AIDAN's twitter feed being full of retweeted news articles and him being all "Foolish Humans. Your tiny brains are nothing compared to mine, this I know. But yet the things you do still surprise me. How did you get to the conclusion that this would be a good idea?"
*next article is twice as stupid* <ERROR> <ERROR> WHAT! <ERROR> IS! <ERROR> THAT!<ERROR> KADY HELP! <ERROR>
Lazlo Strange (Strange the Dreamer by Laini Taylor)
BOOKS AGAIN! HHAHAHAHAA! But like, I can see Lazlo giving us the hidden gems. Like, digging out some YA book from a bygone era, "GUYS THIS ONE IS ACTUALLY GOOD! AND NOT PROBLEMATIC IN THE SLIGHTEST!"
I feel like he'd be a really gentle book blogger though, "I liked this book guys, you can read it if you want to! 🙂 "
Where as we are all like " SCCCCCCCCCREEEEEEEEEEEEEEEEEEEEEEEEE! READ IT! READ IT NOW! IF YOU DON'T READ THIS BOOK I WILL HUNT YOU DOWN AND-"
But I also feel like he might do a travel blog too?? "Come with me as I explore the streets of a long lost city that everyone thought was dead, drowned and non-existent!"
"LOOK! It's a delicacy! It looks like a blood covered brain but when you bite into it, it's actually a soft and squidgy cake! *monch* MMMMmmmmm! STRAWBERRY!"
Gansey, Ronan, Adam, Noah, Blue, Glendower, All the Psychics (The Raven Cycle by Maggie Stiefvater)
I MISS THE WORLD OF THE RAVEN CYCLE SOOO MUCH!!!!! Thank gosh for the Dreamer Trilogy. Something new to devour at last!
Just seeing what the gang is up to would start my day off wonderfully.
Ronan doing something reckless while smiling like a madman, Chainsaw is in the background, his beak wide open. Adam is also there, his face in his hands.
Adams updates being all pictures of him wearing a face of "Do you see what I have to put up with?" and "Why am I here?" and Ronan is in the background doing his reckless things. Gansey jumps into frame holding up a peace sign.
Gansey's posts are all about historical sights and how he's going to find all the weird and wonderful things out there. Pictures of Blue who had fallen asleep on one of their many journeys, captioned; "Jane is very tired. But secretly excited for the adventure!"
Blue's stuff is all about Gansey being a nerd, but a lovable one. Most liked picture is a candid snap of Gansey munching on a mint leaf like a guinea pig. Sometimes her posts include Ronan because she would definitely join in on some of that recklessness.
Noah floating hauntingly in the background of every photo, sticking his tongue out.
I put Glendower there because I thought it would be really fun if he had a Twitter.
"Lying in my tomb. lol. WHo's goInG tO fInD mE fiRST?" *laughs to himself, in the dark, the light of his phone lighting up his face*
"Okay… It's getting kinda stuffy in here."
"SERIOUSLY WHO IS GOING TO GET ME OUT?!?!"
"GANSEY! GANSEY!!! WHERE ARE YOU?!?! COME GET ME! DERE MA TWPSIN!"
*sobbing* "That's it. RAVENS! RAVENS? GO TO GANSEY AND SPOOK HIM OUT! GIVE HIM SOME HINTS TOO!"
*When the Gangsey get there and are walking around his tomb* *Glendower opens twitter* "This is it guys! Gansey is riiiiight there! I can see him through the cracks! Oh he has a scary friend…. what if the scary one hurts me?….. nah! I'M GETTING OUT OF HEEEEEER! SEE YOU IN A BIT CARIADAU!!"
I also want to see aaaaaaaaaaall the psychics posting cryptic but sometimes uplifting stuff. Like, "Yeah, you, you aaaaand you, are going to die soon BUT you're going to be doing something you love most in the world for a while before that happens."
 Hennessy (Call Down the Hawk – The Dreamer Trilogy by Maggie Stiefvater)
I think Hennessy would post a lot of art jokes and memes. And would definitely post things like, "Is it really counterfeit art when someone puts in so much work into painting a fresher one??" "Every one bakes a cake, and they all taste good. You wouldn't eat a cake and instead of complimenting the actual creator of that cake, go into the depths of the underworld to thank the One True Inventor of Cake, would you? SO COMPLIMENT MY ART!! IT TOOK HOURS!"
Jem Carstairs (The Infernal Devices by Cassandra Clare)
Jem would have a music blog or YouTube channel or something.
Videos like; "Me playing the violin sorrowfully for 3 hours."
"Look at these new violins Will got me because he ate my cake, STOLE MY WIFE and was mean to Church."
It would be so wholesome. Jem is a precious boi whom we must protect!
Sean Kendrick (The Scorpio Races by Maggie Stiefvater)
I think Sean would be pretty much silent on any and all social media, until…
"WELCOME TO THE NEW TV SHOW: HOW TO TRAIN YOUR WATER HORSE WITH SEAN KENDRICK!"
The presenter would be all smiley and; "What made you decide to do this show Sean??!"
Sean, with a blank face, leaning down to the microphone slowly; "Because stupid people keep getting eaten by their water horses and it hurts me."
*silence*
*Corr squeals, presenters and film crew run away screaming in fear*
---
What characters would you follow on social media?? What do you think they would post about?? Would you join The Crew of your fave book and help them defeat evil once and for all?? Or would you be like me and just turn up every now and them to admire them and give them cakes??
Also I want to find more bookish people to follow across all platforms!!! SCREAM AT ME!!!!!!!!!!! ❤