Five! Star! Reads!
We all scream for those 5 Star reads. We NEEEED those 5 Star reads. We crave them like a drake/dragon/basically us goes coo-coo for a gold hoard.
Looking at you Smaug!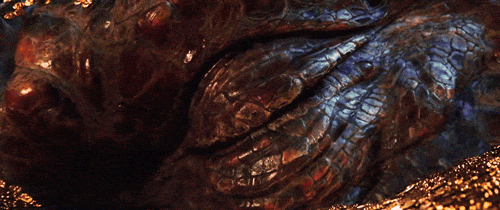 But! Out of all the books that we, the easily trickable (is that even a word??) mortals, purchase with an audible squeal of excitement, which will join the god-tier? Which books will become one of your all time favourites?
Which ones get the ultimate treatment? Who is moving from "The Shelves" to the Land of Shrines? Who will join the–
*the raven cycle and call down the hawk shine majestically from the top shelves*
Maybe not them.
Maybe we can build an apartment complex? Of shrines?
Now if you know me, or glance at my blog once, you know that my TBR has long been out of control. It's been sitting there, on my shelves, patient and hopeful, but now it is alive and angry. hahahaHA
But unlike my angry, hungry and potentially murderous TBR, I have great faith that several of the books it now hoards as members of its army hell-bent on destROYiNg me, are going to be at the very least enjoyable. And at the most, be the 5 star reads that I scream about until!!!
I die…
Dramatically.
Magnificently.
And most likely from all the screaming.
BUT Here! My good friends! Gaze upon the tributes! No, now don't worry! There won't be any book deaths, only Victors!!
Which means… book deaths??
*glances worriedly at script* Wait. *looking around* Who wrote this???
Please, no more deaths… My heart can't take anymore…
BEHOLD!
MY lack of PSYCHIC ABILITIES TELL ME THAT THESE WILL BE MY NEXT 5 STAR READS!
---
I'm linking this post up with today's Top Ten Tuesday! Top Ten Tuesday is a weekly tag where we bookish creatures get to scream with each other all across the Internet! Come join in!
---
Psssst! All the book covers will link to Goodreads so you can check out these books that my brain says will be very good! Thank you Brain!
---
---
What books do you think will be 5 star reads for you?? OOOO! Better question! Do you think your current read will get a 5 star rating from you?? Come tell me! I want to hear what you're reading and if you're loving it!